Official Jodo Shinshu site
NISHI-HONGWANJI – Special feature: A live webcam so you can watch the sun rise and set on the Mother Temple in Japan. Re-load frequently to watch the action.
Koshin Ohtani is the 24th generation descendant of the founder, Shinran Shonin, Spiritual Head of the Honpa Hongwanji and the BCA.
---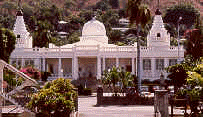 Honpa Hongwanji Mission of Hawaii – Aloha! This is Dr. Al Bloom's "home." Enjoy the Hawaiian hospitality as you visit to learn about this historic Jodo Shinshu mission. Includes a directory of individual temples.
---
Buddhist Temples of Canada – Includes a directory of individual temples.
Buddhist Churches of America (BCA) – links to temples/churches.
Hongwanji Tsukiji Betsuin – A large temple in Toyko that "has served as an oasis for centuries." A large site with interesting content and beautiful photos of the temple.
Ryokeiji Temple – Takefu, Fukui Prefecture, Japan
Three Wheels Shin Buddhist House – A Shin Buddhist center established in London at the end of 1994. Branch of Shogyoji Temple, Japan.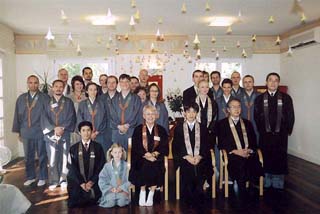 Buddhist Faith Fellowship of Connecticut – An independent Pure Land Buddhist community inspired by the teachings of Shinran.
Pureland Buddhism …
Amida Trust Homepage / Amida-Shu Buddhism – "An organically developing international communion for Pureland Buddhism for all who are inspired by the Buddha's message of peace, compassion, and personal and social transformation." Sponsored by the Amida Trust(Leicestershire, UK). Home of the Amida School and Amida Order.