When:
June 25, 2022 @ 10:00 am – 12:00 pm
2022-06-25T10:00:00-10:00
2022-06-25T12:00:00-10:00
Contact:
Kapaa Hongwanji or West Kauai Hongwanji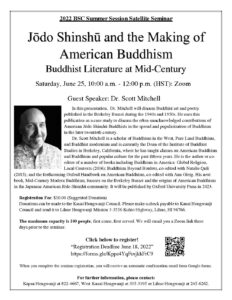 Join us for our Kauai Summer Session Neighbor Island speaking tour on June 25th, 2022 from 10 AM to 12 PM Hawaii time. Our guest speaker will be Dr. Scott Mitchell, Dean of the Institute of Buddhist Studies. He is a scholar of Buddhism in the West, Pure Land Buddhism, and Buddhist Modernism.  He has taught classes on "American Buddhism" and "Buddhism and Popular Culture" for the past fifteen years. In this presentation, Dr. Mitchell will discuss Buddhist art and poetry published in the Berkeley Bussei during the 1940s and 1950s. He uses this publication as a case study to discuss the often-unacknowledged contributions of American Jōdo Shinshū Buddhists in the spread and popularization of Buddhism in the later twentieth century.
Registration Fee: $10.00 (Suggested Donation)
Donations can be made to the Kauai Hongwanji Council. Please make a check payable to Kauai Hongwanji Council and send it to Lihue Hongwanji Mission 3-3556 Kuhio Highway, Lihue, HI 96766.
The maximum capacity is 100 people, first come, first served. We will email you a Zoom link three days prior to the seminar.
Click below to register!
Registration Deadline June 18, 2022
https://forms.gle/Kppe4YqFsxjkkFrC9
For further information, please contact:
Kapaa Hongwanji at 822-4667, West Kauai Hongwanji at 335-3195 or Lihue Hongwanji at 245-6262.