When:
May 1, 2022 @ 9:30 am – 12:00 pm
2022-05-01T09:30:00-10:00
2022-05-01T12:00:00-10:00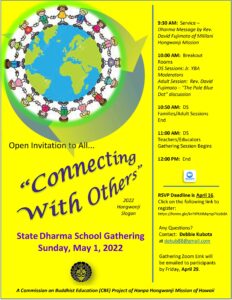 Come join us for our 2022 State Dharma School Gathering on Sunday, May 1st! Registration is still open even though the deadline has passed. Registration form is here.
Schedule is below:

Time: 9:30 a.m.   Service
Dharma Message: Rev. David Fujimoto (Mililani Hongwanji Mission)
10:00 a.m.  Breakout Room Sessions
Adult Session: Rev. David Fujimoto "The Pale Blue Dot" discussion
Dharma School Sessions: Jr. YBA Moderators
10:50 a.m.  Dharma School Families/Adult Sessions End
11:00 a.m.  Dharma School Teachers/ Educators Gathering Session (Open to all)
12:00 p.m.  Done
Platform: Zoom
This event is open to everyone, not just Dharma School students!