When:
March 12, 2022 @ 10:00 am – 12:00 pm
2022-03-12T10:00:00-10:00
2022-03-12T12:00:00-10:00
Contact:
Honpa Hongwanji Hilo Betsuin
808-961-6677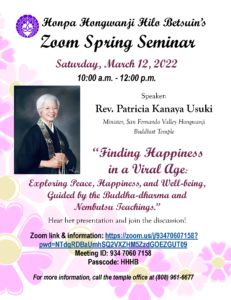 Aloha,
We would like to invite you to join us for the Zoom Spring Seminar sponsored by Honpa Hongwanji Hilo Betsuin which will be held on March 12, 2022 at 10 a.m.-12:00 p.m.
Our speaker for the event will be Rev. Patricia Kanaya Usuki, Minister of San Fernando Valley Hongwanji Buddhist Temple. She will be speaking on "Finding Happiness in a Viral Age: Exploring Peace, Happiness, and Well-Being, Guided by the Buddha-dharma and Nembutsu Teachings".
Here is the zoom link: https://zoom.us/j/93470607158?pwd=NTdqRDBaUmhSQ2VXZHM5ZzdGOEZGUT09
We look forward to having you join us! If you have any questions, please contact the Honpa Hongwanji Hilo Betsuin.