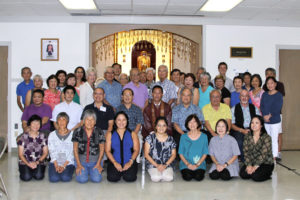 Summer Session 2017 attendees
The BSC Summer Session is an annual, weeklong seminar with a well-known Buddhist scholar.
Summer Session held its first classes in 1974 with Dr. Alfred Bloom and Dr. Mokusen Miyuki.  For over 40 years, distinguished teachers including Dr. Taitetsu Unno, Rev. Gyomay Kubose, Dr. George Tanabe, Prof. Takamaro Shigaraki, Dr. Mark Unno, Rev. Ruth Tabrah, Dr. David Matsumoto, Rev. Marvin Harada, Rev. William Masuda have shared their knowledge and perspectives on Buddhism through this program.
Past Summer Sessions
2017: Jodo Shinshu in the land of Shakyamuni
2016: Mindfulness and Buddhism in America
2015: What does Jodo Shinshu Mean to Me?
Speaker:
Hawaii Kyodan Ministers and members
The BSC YouTube channel includes
session videos