The BSC Summer Session is an annual, week-long seminar with a well-known Buddhist scholar. The 2023 Summer Session will be the 49th annual event.
The Buddhist Study Center presents Summer Session 2023
"Shinran's Challenge: A Shin Buddhist in the 21st Century"
with Reverend Dr. Takashi Miyaji

Seminar Schedule
We returned to our in-person and online hybrid style of presenting for the Summer Session 2023 program. Zoom recordings of most of the evening programs are now available on YouTube — see YouTube links below.
Monday, June 5, 2023 6 p.m. – 8 p.m HST.
Opening Service and Lecture: "Kyogyosho Monrui and Passanges on the Pure Land Way"
Day 1 now on YouTube
Tuesday, June 6, 2023 6 p.m. – 8 p.m HST.
"Sanjo Wasan"
Day 2 now on YouTube
Wednesday, June 7, 2023 6 p.m. – 8 p.m HST.
"Notes on Essentials of Faith Alone and Notes on Once-calling, Many-Calling"
Day 3 now on YouTube
Thursday, June 8, 2023 6 p.m. – 8 p.m HST.
"Shinran's Letters and Tannisho"
Day 4 now on YouTube
Friday, June 9, 2023 6 p.m. – 8 p.m HST.
"What the Jodo Shinshu Identity is Today"
Day 5 now on YouTube
WHO: All those with inquiring minds and curiosity about Buddhism
COST: Free (Donations are welcome)
QUESTIONS: Call the Buddhist Study Center (808) 973-6555
About the Speaker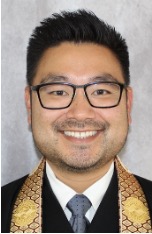 Rev. Dr. Takashi Miyaji is currently a minister of the Southern Alameda County Buddhist Church since August 1, 2020.  In addition, he teaches at the Institute of Buddhist Studies located in Berkeley, California.
He graduated from the University of California at Berkeley with a Bachelor's Degree in Philosophy and Japanese language and literature, Institute of Buddhist Studies at Berkeley, California with a Master's in Buddhist Studies, Ryukoku University in Kyoto, Japan with a Master's Degree in Shin Buddhist Studies, and completed the doctoral coursework at Ryukoku University.  He specializes in the areas of Japanese Buddhism and religion, translation of Buddhist scripture, and Jodo Shinshu doctrine and ethics.  He has obtained the academic rankings of Hokyo recognized within Hongwanji.
Past Summer Sessions
2022: Jodo Shinshu and the Making of American Buddhism
Speaker: Dr. Scott Mitchell
2021: Peace Through Buddha-dharma
Speaker: Rev. Kodo Umezu
2020: Interlinked: Understanding the Origins and Evolution of American Buddhism
Speaker: Dr. Duncan Ryuken Williams
2019: Everyday Buddhism
Speaker: Rev. Kiyonobu Kuwahara
2018: Everyday Buddhism for a Happy, Meaningful Life
2017: Jodo Shinshu in the land of Shakyamuni
2016: Mindfulness and Buddhism in America
Summer Session History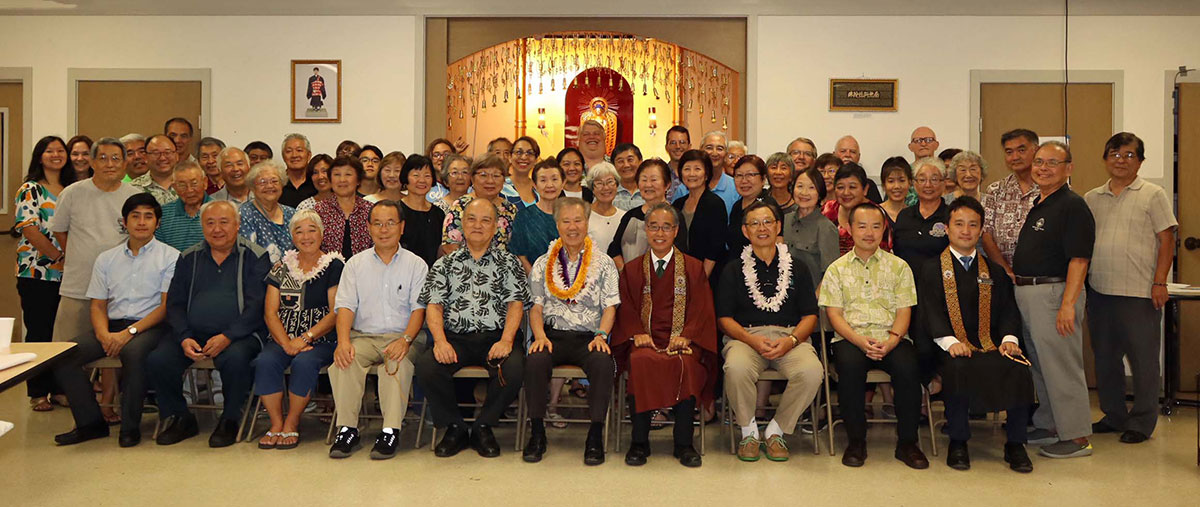 Group photo from the 2018 Summer Session (click image for larger version)
Summer Session held its first classes in 1974 with Dr. Alfred Bloom and Dr. Mokusen Miyuki.  For over 40 years, distinguished teachers including Dr. Taitetsu Unno, Rev. Gyomay Kubose, Dr. George Tanabe, Prof. Takamaro Shigaraki, Dr. Mark Unno, Rev. Ruth Tabrah, Dr. David Matsumoto, Rev. Marvin Harada, Rev. William Masuda have shared their knowledge and perspectives on Buddhism through this program.