The BSC Summer Session is an annual, week-long seminar with a well-known Buddhist scholar. The 2021 Summer Session will be the 47th annual event.
The Buddhist Study Center presents Summer Session 2021
"Peace Through Buddha-dharma"
with Rev. Kodo Umezu

Seminar Schedule
Due to COVID-19 and social distancing regulations, we have decided to hold the Summer Session 2021 entirely online this year. There is no registration needed. Please check back here for the Youtube livestream link. There are different links for each day, so please make sure you clicked the right video!
Monday, July 12, 5 p.m. – 7 p.m HST. Peace Through Buddha-dharma.
Tuesday, July 13, 5 p.m. – 7 p.m HST. Inner Peace.
Wednesday, July 14, 5 p.m. – 7 p.m HST. Every Day Peace.
Thursday, July 15, 5 p.m. – 7 p.m HST. World Peace.
Friday, July 16, 5 p.m. – 7 p.m HST. Peace Through Buddha-dharma.
WHO: All those with inquiring minds and curiosity about Buddhism
COST: Free (Donations are welcome)
QUESTIONS: Call the Buddhist Study Center (808) 973-6555
About the Speaker
After 47 years of dedicated ministry and service to the Buddhist Churches of America, Rev. Kodo Umezu, Bishop of the Buddhist Churches of America, retired from the BCA ministry on March 31, 2020. Prior to assuming the position of Bishop and Superintendent of the Hongwanji-ha North America District in 2012, Rev. Umezu served as the resident minister at the Fresno Betsuin Buddhist Temple, Los Angeles Honpa Hongwanji Buddhist Temple, and the Buddhist Church of Oakland. Additionally, Rev. Umezu also served as the Director of the BCA Center for Buddhist Education, and Chancellor of the Institute of Buddhist Studies.
Past Summer Sessions
2020: Interlinked: Understanding the Origins and Evolution of American Buddhism
Speaker: Dr. Duncan Ryuken Williams
2019: Everyday Buddhism
Speaker: Rev. Kiyonobu Kuwahara
2018: Everyday Buddhism for a Happy, Meaningful Life
2017: Jodo Shinshu in the land of Shakyamuni
2016: Mindfulness and Buddhism in America
2015: What does Jodo Shinshu Mean to Me?
Speaker:
Hawaii Kyodan Ministers and members
The BSC YouTube channel includes
session videos
Summer Session History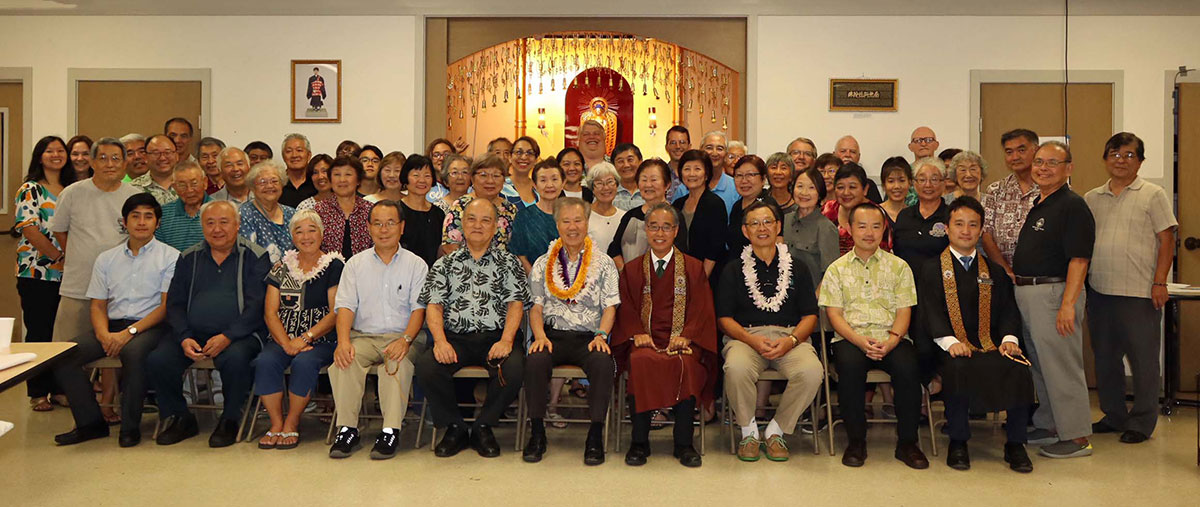 Group photo from the 2018 Summer Session (click image for larger version)
Summer Session held its first classes in 1974 with Dr. Alfred Bloom and Dr. Mokusen Miyuki.  For over 40 years, distinguished teachers including Dr. Taitetsu Unno, Rev. Gyomay Kubose, Dr. George Tanabe, Prof. Takamaro Shigaraki, Dr. Mark Unno, Rev. Ruth Tabrah, Dr. David Matsumoto, Rev. Marvin Harada, Rev. William Masuda have shared their knowledge and perspectives on Buddhism through this program.