The BSC Summer Session is an annual, week-long seminar with a well-known Buddhist scholar. The 2020 Summer Session will be the 46th annual event.
The Buddhist Study Center presents Summer Session 2020
"Interlinked: Understanding the Origins and Evolution of American Buddhism"
with Dr. Duncan Ryuken Williams

Seminar Schedule
Due to COVID-19 and social distancing regulations, we have decided to hold the Summer Session 2020 entirely online this year. There is no registration needed. Please check back here for the Youtube livestream link. There are different links for each day, so please make sure you clicked the right video!
Some of the lectures will be better appreciated with the recommended readings, which we have provided some in PDF form. Click the following link for the reading syllabus: 2020 Reading Syllabus
Monday, June 22, 5 p.m. – 7 p.m HST. Interlinked: The Foundations of American Buddhism.
Monday's Livestream
We'll explore the early history of American Buddhism in the late 19th and early 20th centuries as established in Hawaii and the continental U.S. by Asian immigrants and early converts. How was American Buddhism formed during its first several decades?
Readings:
"Introduction: Dislocation and Relocations of Issei Buddhists in the Americas" in Issei Buddhism in America
Noriko Asato, "The Japanese Language School Controversy in Hawaii." in Issei Buddhism in America. Duncan Ryuken Williams and Tomoe Moriya, eds. Urbana, IL: University of Illinois Press, 2010, pp. 45-64.
Night-Stand Buddhists and Other Creatures: Sympathizers, Adherents, and the Study of Religion
Tuesday, June 23, 5 p.m. – 7 p.m HST. Interlinked: Buddhism in Hawaii during WWII.
Tuesday's Livestream
We'll explore how Buddhism on the Hawaiian Islands endured and persisted during WWII after martial law was declared.
Readings:
Duncan Ryuken Williams, American Sutra: A Story of Faith and Freedom in the Second World War. Cambridge, MA: Harvard University Press, 2019, prologue, Cpt. 1, Cpt. 2.
Wednesday, June 24, 5 p.m. – 7 p.m HST. Interlinked: Religious Freedom and Buddhism during WWII.
Wednesday's Livestream
From confinement sites in the interior during WWII, how did people turn to their faith to orient them to find a semblance of normalcy and freedom in the midst of incarceration? How was Buddhism practiced behind barbed wire surrounded by armed guards?
Readings:
Duncan Ryuken Williams, American Sutra: A Story of Faith and Freedom in the Second World War. Cambridge, MA: Harvard University Press, 2019, Cpt. 4, Cpt. 5, Cpt. 6, Cpt. 7
Thursday, June 25, 5 p.m. – 7 p.m HST. Interlinked: American Buddhism and Ecology.
Thursday's Livestream
We will explore how Buddhism can offer an ecological perspective, environmentally-oriented practices, and new understandings of Sangha/community to live in a sustainable manner.
Readings:
Mountain Hidden in Mountains
To Save All Beings: Buddhist Environmental Activism
Friday, June 26, 5 p.m. – 7 p.m HST. Interlinked: Buddhist Social Engagement in 2020 (Tsuru for Solidarity Crane Folding).
Friday's Livestream
We'll focus on issues of immigration and diversity in this session about socially-engaged Buddhism in the year 2020. Especially in the context of the COVID-19 pandemic, what can Buddhists do to maintain resiliency and perspective in enacting wisdom and compassion in an increasingly interconnected world?
Readings:
Making Paper Cranes Fly: A Report from Fort Sill, Oklahoma
Interview with Ashok Mukpo XXX (ACLU) in Tricycle magazine (Summer 2020)
WHO: All those with inquiring minds and curiosity about Buddhism
COST: Free (Donations are welcome)
QUESTIONS: Call the Buddhist Study Center (808) 973-6555
About the Speaker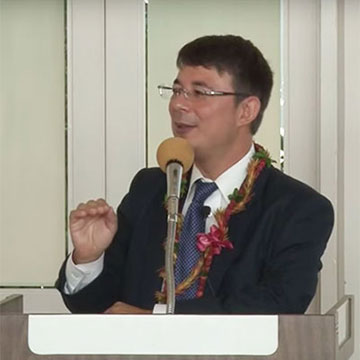 Dr. Williams is an Associate Professor of Religion at the University of Southern California and the Director of the USC Shinso Ito Center for Japanese Religions and Culture. He received his Ph.D. from Harvard University and previously held the Shinjo Ito Distinguished Chair of Japanese Buddhism at University of California at Berkeley He is the author of many publications including: The Other Side of Zen: A Social History of Sôtô Zen Buddhism in Tokugawa Japan (Princeton, 2005). In 2019, he published American Sutra, a groundbreaking history tells the little-known story of how, in one of our country's darkest hours, Japanese Americans fought to defend their faith and preserve religious freedom.
Past Summer Sessions
2019: Everyday Buddhism
Speaker: Rev. Kiyonobu Kuwahara
2018: Everyday Buddhism for a Happy, Meaningful Life
2017: Jodo Shinshu in the land of Shakyamuni
2016: Mindfulness and Buddhism in America
2015: What does Jodo Shinshu Mean to Me?
Speaker:
Hawaii Kyodan Ministers and members
The BSC YouTube channel includes
session videos
Summer Session History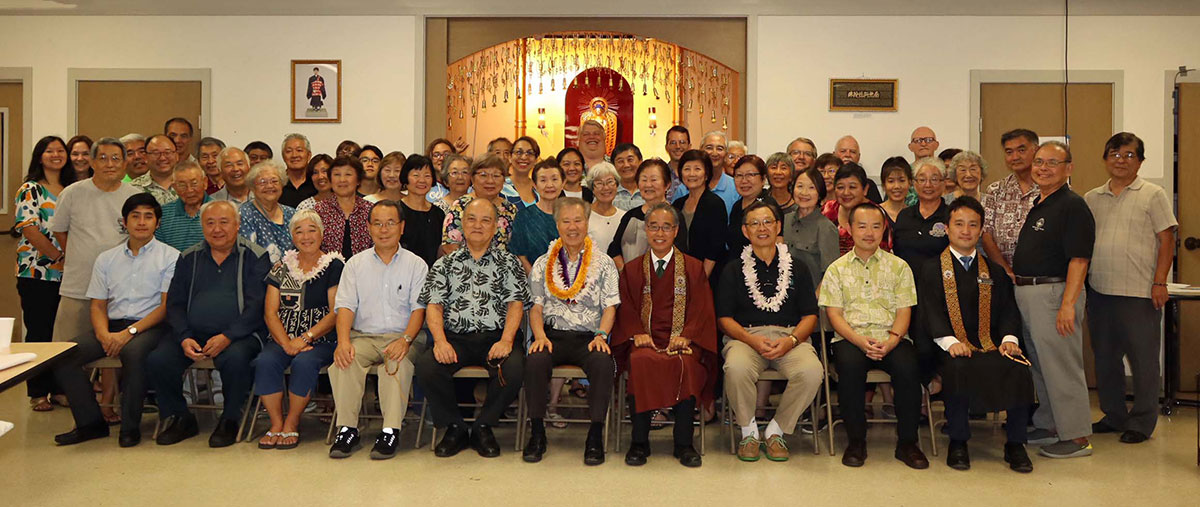 Group photo from the 2018 Summer Session (click image for larger version)
Summer Session held its first classes in 1974 with Dr. Alfred Bloom and Dr. Mokusen Miyuki.  For over 40 years, distinguished teachers including Dr. Taitetsu Unno, Rev. Gyomay Kubose, Dr. George Tanabe, Prof. Takamaro Shigaraki, Dr. Mark Unno, Rev. Ruth Tabrah, Dr. David Matsumoto, Rev. Marvin Harada, Rev. William Masuda have shared their knowledge and perspectives on Buddhism through this program.