The BSC Summer Session is an annual, week-long seminar with a well-known Buddhist scholar. The 2022 Summer Session will be the 48th annual event.
The Buddhist Study Center presents Summer Session 2022
"Jōdo Shinshū and the Making of American Buddhism
Is Shin Buddhism the foundation of American Buddhism?"
with Dr. Scott Mitchell

Seminar Schedule
We have decided to return to our in-person and online hybrid style of presenting our Summer Session program. However, due to concerns about COVID-19, we have decided to limit the amount of people who may attend in person to 30 people. We will require those who do attend in person to wear a mask indoors and to be mindful about social distancing. Please register using this link in order to receive the Zoom link. We will be posting the edited versions of the Summer Session on our Youtube page.
If you have already registered, please make sure to check all of your email folders. The registration email with the link may have ended up in your "Promotions" or "Spam" folders. Please use the keywords "Buddhist Study Center" or "Summer Session" in your search! If you are still having trouble, please email kwong@honpahi.org for help!
Monday, June 20, 6 p.m. – 8 p.m HST. Opening Service and Lecture: "The Buddhist Movement in America"
Tuesday, June 21, 6 p.m. – 8 p.m HST. "Buddhist Modernism, Shin Modernism"
Wednesday, June 22, 6 p.m. – 8 p.m HST. "The Nisei Problem"
Thursday, June 23, 6 p.m. – 8 p.m HST. "The Nisei Problem"
Friday, June 24, 6 p.m. – 8 p.m HST. "Transpacific Buddhist Crossing"
WHO: All those with inquiring minds and curiosity about Buddhism
COST: Free (Donations are welcome)
QUESTIONS: Call the Buddhist Study Center (808) 973-6555
About the Speaker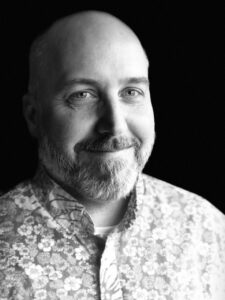 Dr. Scott Mitchell is Dean of the Institute of Buddhist Studies and a scholar of Buddhism in the West, Pure Land Buddhism, and Buddhist Modernism. He has taught classes on "American Buddhism" and "Buddhism and Popular Culture" for the past fifteen years.
In his book, Mid-Century Modern Buddhism, Dr. Mitchell examines Buddhism in the United States before, during, and after World War II, when Nisei Jodo Shinshu Buddhists reacted to the trauma of racial and religious discrimination by laying claim to an American identity inclusive of their religious identity. In the pages of temple-supported magazines, such as the Berkeley Bussei, Nisei argued that Buddhism was both what made them good Americans but also what they had to contribute to America, a rational and scientific religion of peace.
Past Summer Sessions
2021: Peace Through Buddha-dharma
Speaker: Rev. Kodo Umezu
2020: Interlinked: Understanding the Origins and Evolution of American Buddhism
Speaker: Dr. Duncan Ryuken Williams
2019: Everyday Buddhism
Speaker: Rev. Kiyonobu Kuwahara
2018: Everyday Buddhism for a Happy, Meaningful Life
2017: Jodo Shinshu in the land of Shakyamuni
2016: Mindfulness and Buddhism in America
Summer Session History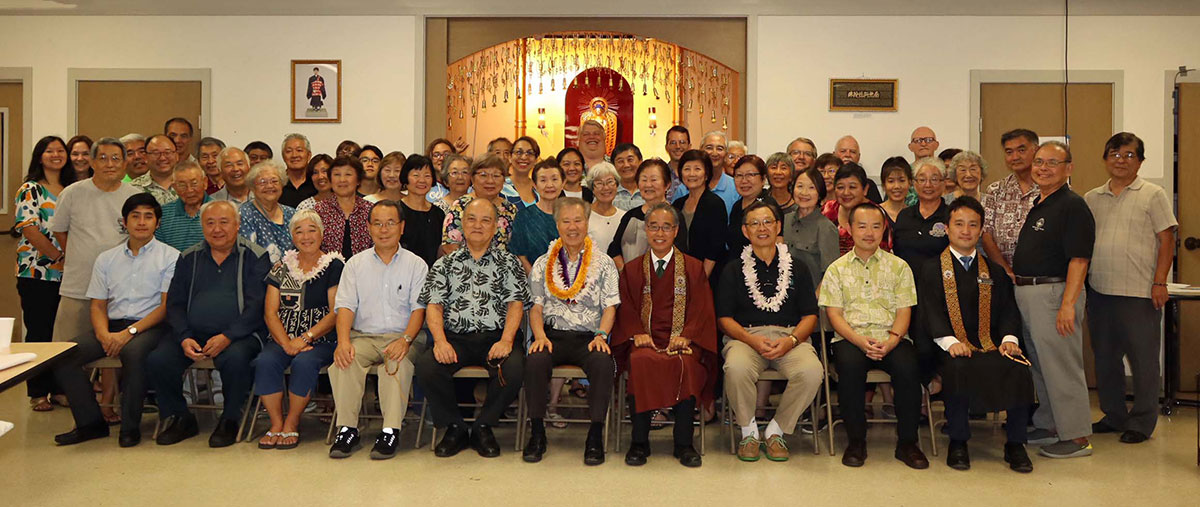 Group photo from the 2018 Summer Session (click image for larger version)
Summer Session held its first classes in 1974 with Dr. Alfred Bloom and Dr. Mokusen Miyuki.  For over 40 years, distinguished teachers including Dr. Taitetsu Unno, Rev. Gyomay Kubose, Dr. George Tanabe, Prof. Takamaro Shigaraki, Dr. Mark Unno, Rev. Ruth Tabrah, Dr. David Matsumoto, Rev. Marvin Harada, Rev. William Masuda have shared their knowledge and perspectives on Buddhism through this program.