By Rev. Dr. Alfred Bloom …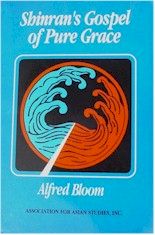 "Shinran's Gospel of Pure Grace." Tucson: University of Arizona Press, 1965. The Association for Asian Studies Publications … BCABS
"Religion & Man: Indian and Far Eastern Religious Traditions." Robert D. Baird and Alfred Bloom. New York: Harper & Row, 1972. AMAZON
"Tannisho: A Resource for Modern Living." Honolulu : Buddhist Study Center, 1981. HHBS … BCABS
"Shoshinge: The Heart of Shin Buddhism." T. Nagatani & Ruth Tabrah, trans. Honolulu, Hawaii : Buddhist Study Center Press, 1986. HHBS … BCABS
"Strategies for Modern Living: A Commentary with the Text of the Tannisho." Berkeley, CA: Numata Center, 1993. BCABS
"The Life of Shinran Shonin: The Journey to Self Acceptance." 1968. Rev. 1994: Berkeley, CA: Institute of Buddhist Studies Monograph Series. AMAZON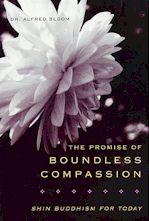 "The Promise of Boundless Compassion – Shin Buddhism for Today." Thomson Shore, 2002. BCABS … HHBS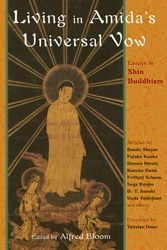 "Living in Amida's Universal Vow: Essays on Shin Buddhism," Alfred Bloom, ed. Bloomington, IN: World Wisdom, 2004. World Wisdom… BCABS … HHBS
"The Essential Shinran : A Buddhist Path of True Entrusting." Compiled and edited by Alfred Bloom, with author's commentary. Bloomington, IN: World Wisdom, 2007. World Wisdom … HHBS … BCABS … AMAZON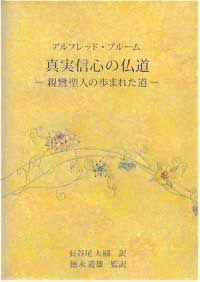 "The Essential Shinran" … in JAPANESE. Published by: Hongwanji Shuppansha, Kyoto
TEL 075 (371) 4171;
FAX 075 (341) 7753
"A Life of Serendipity – Blown by the Wind of Amida's Vow." New York: American Buddhist Study Center, 2008. BCABS … HHBS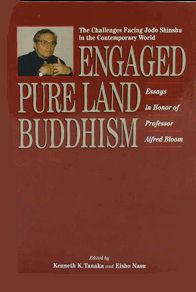 OTHER …
"Engaged Pure Land Buddhism: The Challenges of Jodo-Shinshu in the Contemporary World – Studies in Honor of Professor Alfred Bloom." Kenneth K. Tanaka,
Eisho Nasu, eds. Wisdom Ocean Publications, 1998. BCABS
---
By Other Authors …
Available on AMAZON:
"Honen's Senchakushu: Passages in the Selection of the Nembutsu of the Original Vow." Morris Augustine, Tessho Kondo, trans. University of Hawaii Press, The Kuroda Institute, Honolulu, 1998.
"Memoirs of the Warrior Kumagai." Donald Richie. Tuttle Publishing, 1st ed., 1999.

"The Pure Land Tradition: History and Development." James Foard, Michael Solomon and Richard Payne, eds. Berkeley Buddhist Studies, 1996.
"T'an-Luan's Commentary on Vasubandhu's Discourse on the Pure Land." Hisao Inagaki. Nagata Bunshodo, 1998.
"Tariki: Embracing Despair, Discovering Peace." Hiroyuki Itsuki; Joseph Robert, trans. Kodansha, Limited, 2001.
"Unlocking Tannisho: Shinran's Words on the Pure Land Path." Kentetsu Takamori; Juliet Winters Carpenter, trans. Ichimannendo Publishing Inc. 2011
---
"Bearer of the Light: The Life and Thought of Rennyo." Jitsuen Kakehashi. Pure Land Publications, 1999.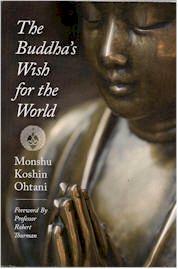 "Buddha and Man." Eikichi Ikeyama. Buddhist Study Center Press, 1989.
"The Buddha's Wish for the World." Monshu Koshin Ohtani; Wayne S. Yokoyama, trans. American Buddhist Study Center Press. 1st ed., 2009.
"Dewdrops of Dharma: Forty-Eight Buddhist Viewpoints." Rev. Koju Fujieda, compiler; Dr. Alfred Bloom, ed. Nagatabunshodo. 1st ed., 2006.
"Interpreting Amida: History and Orientalism in the Study of Pure Land Buddhism." Galen Amstutz. State University of New York Press, 1st ed., 1997.
"Popular Buddhism in Japan: Shin Buddhist Religion & Culture." Esben Andreasen; Foreward & Postscript Alfred Bloom. University of Hawaii Press; 1st ed., 1997.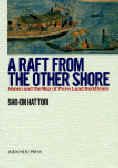 "A Raft From the Other Shore." Revised & edited by Jonathan Watts and Yoshiharu Tomatsu. Jodo Shu Press, 2001.
"Rennyo and the Rise of the Hongwanji." Michael Solomon. Pure Land Publications, 1977.
---
Unless otherwise noted, the following books are Buddhist Study Center Press publications.
BY RUTH M. TABRAH
"Living Shin Buddhism: An Account of a Visit with Hanada-Sensei." 1978


"The Monk Who Dared – An Historical Novel About Shinran." Pacifica Press, 1995.
"The Monk's Wife – A Novel About Eshinni." 2001
… with Shoji Matsumoto
"Ajatasatru: The Story of Who We Are." 1988
"Shin Sutras to Live By: A New Century Publication." 1990
"The Natural Way of Shin Buddhism." 1993
—————————————————————–
BY OTHERS …
"Bodhisattvas Everywhere." T. Sakakibara; T. Arai, trans. 1984
"Buddhist Voices from Metta: A Collection of Buddhist Experiences." 1995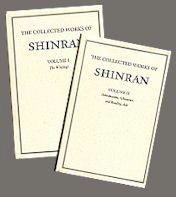 "The Buddhist World of Awakening." Takamaro Shigaraki. 1983
"The Collected Works of Shinran," 2 vols. Hongwanji International Center. 1997.
"Dharma Treasures: Spiritual Insights From Hawaii's Shin Buddhist Pioneers." Tatsuo Muneto.
"Kaikyo: Opening the Dharma – Memoirs of a Buddhist priest's wife in America." Jane Michiko Imamura. Ryo Imamura, 1st printing ed., 1998.
"Memoirs of a Buddhist Woman Missionary in Hawaii." Shigeo Kikuchi. 1991
"On the Air – Messages on Shinran's Teachings on Peace and Tranquility." Foreward Bishop Thomas Okano. 2008
"One Man's Journey: A Spiritual Autobiography." Kazuo Miyamoto. 1981
"Tannisho: A Shin Buddhist Classic." Taitetsu Unno, trans. Rev. ed. 1996
"Yemyo Imamura: Pioneer American Buddhist." Moriya Tomoe; Alfred Bloom, Ruth Tabrah, eds.; Tsuneichi Takeshita, trans. 1st ed., 2000.