An important part of Shin Buddhism is honoring those men and women, now deceased, who've made an impact on the lives of those around them. In that spirit, we offer the following tributes and memorials. (All are in pdf file format)
Rev. Gyoko Saito (1927-2001) – A eulogy by Dr. Nobuo Haneda, director of Maida Center for Buddhism, Berkeley, Calif. Rev. Saito was a beloved Shin minister who served many years in Chicago, Los Angeles and for a brief period in Hawaii where he passed away. He had a wide influence during his long ministry and will be sorely missed.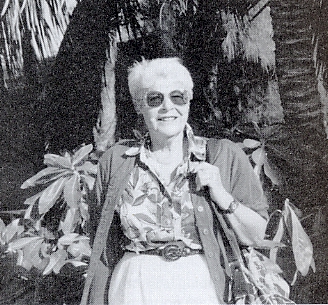 Rev. Ruth Tabrah (1921-2004) – On April 8, the Buddha's birthday, Ruth Tabrah, a pillar of Hawaiian Buddhism and the World Jodo Shinshu Sangha passed away peacefully after battling Parkinson's disease and other complications. Her value as a writer/editor and mentor to Shin Buddhists past, present and future can't be overstated. An irreplaceable Zenchishiki (good friend who teaches), her loss will be felt for years – generations – to come. Those who had the privilege of being in Ruth's presence recognized her as a beacon and bright star in the Buddhist Community. Whoever encountered her spirit was never the same after, her joy and optimism were so infectious. She truly was a great woman in every sense of the term. While these eulogies attempt to evoke something of Ruth's spirit, without her they are inadequate. She is missed greatly.
Tribute to the late Rev. Ruth Tabrah by Connie Fukumoto (pdf file) – Goji article by Rev. Tabrah's longtime friend.
Liturgy for Japan and All Beings Touched by the Earthquake, From the Blue Mountain Lotus Society, Harrisburg, Penn. – A liturgy in remembrance of the people who endured the 2011 earthquake-tsunami in Japan. It is a sensitive and graphic presentation of the scope of their loss. We should all keep them in mind, as well as those who suffer similarly in other places around the world. The liturgy's author is Rev. Virginia Parkum.